It started with a simple tub of pimento cheese. When Robin Allen was growing up, there was always some in the fridge, and since it was easier to eat a spoonful of pimento cheese than to make a sandwich, she chose it for her go-to after school snack. She didn't think much about it, other than sneaking a few bites between playing outside and maybe doing some homework.

It was only in July of 2014, as Robin was about to turn 50, that she saw an opportunity to make and sell her own pimento cheese. No strangers to entrepreneurship, Robin and her husband Glenn (you can call him Bubba) had owned their own printing business together for 25 years. They were good at it, and they enjoyed working together.
A revitalization grant brought a farmers market to the Allen's home of South Hill, Virginia; and soon after catching the market bug, Robin and Glenn


came up with a plan to sell three flavors of pimento cheese--just for one day--at the market, just to see what it was like. Turns out, they loved everything about it.
The town of South Hill, VA paved a clean path for Robin and Glenn to get their pimento cheese inspected and their business established, and after that first day--making new friends over pimento cheese, feeling the thrill of the sale, and selling out all 30 tubs of cheese they had in stock--Robin and Glenn had a hunch that this might be their next life. A few months later, they sold the printing business and started making Virginia's pimento cheese full-time. Birdie's Pimento Cheese was born.
Today, you can find Birdie's Pimento Cheese in small specialty retailers across the country.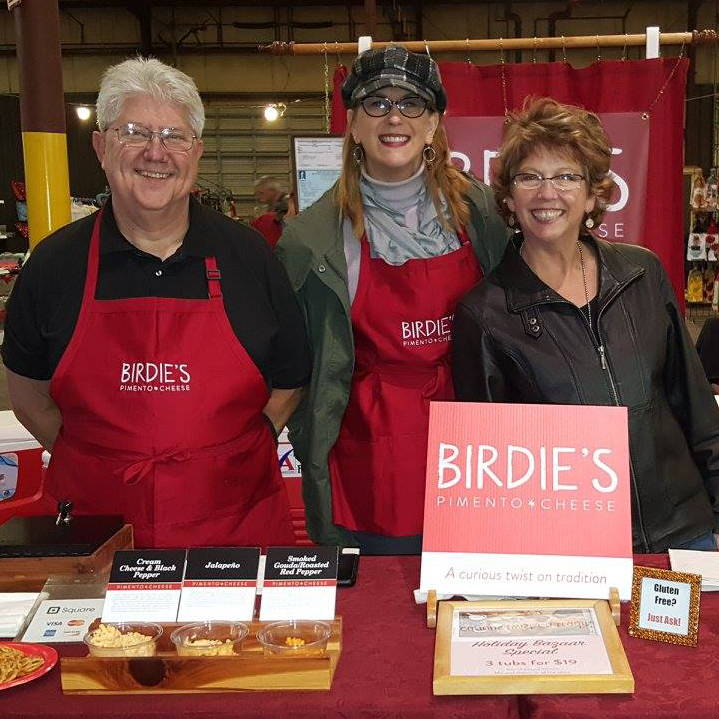 We hope you like the pimento cheese. Feel free to message us anytime if you have a question. We're so glad you've visited the website. - Thanks!
Please follow us on social media. We love posting about what we're up to. If you're curious about your orders arrival, check out our shipping policy. We're looking forward to hearing from you!